animation
animation:
All animation is created by rendering a series of pictures in a sequence and displaying those pictures at a sufficient rate of speed so as to generate the phenomena called "persistence of vision". One of a cartoon animator's goals is to optically blend sequential images together to create the visual effect of continuous motion.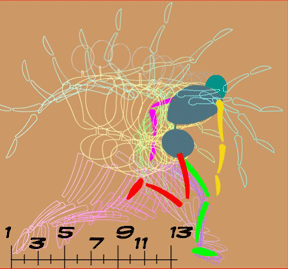 The images in a sequence are called frames. To create animation successive frames in the sequence must change. The distance in frames and the amount of change between the pictures produces the
spacing
and
timing
of the animation.












Readers are encouraged to update this informational content, add keywords to assist other readers in locating this page, or link this page to other pages where appropriate. If this term is not yet defined please feel free to start the definition of this term and other readers will hopefully add to or improve upon that beginning.
Started By
Thread Subject
Replies
Last Post
Cartoelie
Compatible with Photoshop or Flash?
1
Jul 4 2011, 7:37 PM EDT by JK-TGRS

Thread started: Jun 28 2011, 10:28 AM EDT Watch

Hi, I find it difficult to draw in TBS, I prefer to draw in Photoshop, Illustrator or Flash. I found out when I export my drawings to photoshop and save it as a photoshop file (psd) that I can open it in TBS and seems to work fine. But when I cutted and named everything and try to order the drawing elements, for example, I dragg the head to the torso, the suddenly the head becomes ten times smaller!! Also when I open it in the drawing mode it shows ten times bigger! I suppose this is not normal. Do I do something wrong or is it just not so simple to import from Photoshop? What what other program could I use for drawing otherwise?

Thank you in advance!

Do you find this valuable?
Showing 1 of 1 threads for this page